All startup businesses need to focus on management early on. It is not just the issue of resolving the teething problems. It is rather more about laying the right foundations at the very outset. We know the success stories of startup companies' growing into Uber and Facebook but the fact is that there are more failures than successes.
This is because founders do not tackle well with early challenges and risks. All startups face challenges that founders can address with effective planning and right decisions. Some of the most common challenges, which startups face are given below:
Money — Startups face more cash flow problems in the beginning.
Exploring markets for products — According to CB insights survey from Startup founders, the biggest reason for startup failures is the lack of market need for their products. 42 per cent of polled startups cited this as a big reason.
The competitors — Competition is fierce and puts pressures especially on sales and marketing.
Finding the right people — Hiring a suitable candidate is a big challenge.
Poor management — Lack of planning and inappropriate decision making.
Time management — Using time efficiently in the early phase of a business is critical. Investing time efficiently in the right activities is equally important as investing money.
Also Read: How startups can defeat challenges in customer satisfaction
For any startup, developing sound management and its improvement is critical. If a Startup is a sapling than good management is like sunshine air and water to it. In this article, I will discuss ways to improve startup management.
Create great culture-make your hiring effective:
To inculcate good culture in a startup, you should make efforts in its early life. A great startup culture ensures people working together creating synergy to solve customer's problems effectively. You create good culture by hiring culture contributors. Culture is dynamic and grows as the business expands. Eric Groves, the CEO of Alignable Inc. says that "each person that you add does form the culture of the company".
The Success of startup companies depends on how teams work at exceptionally high levels rather than on free lunches and paid vacations. The founder of Pivot Desk David Mandell puts it this way "A lot of people think culture is based on foosball tables and catered lunches and that's all bullshit. He emphasizes the need for organizations that enjoy working together.
Hiring the right people is a critical success factor especially in the beginning. Take care of the following points:
Don't hire people your company doesn't need.
Hire only when you have a direct need or there is a bottleneck. If a critical function is allotted to somebody who is preoccupied with many other tasks and the product is suffering.
Don't surround yourself with "Yes men", instead gather a team of supportive people.
Hire people for their strengths rather than their lack of weaknesses.
Outline your company's core values and find people that reflect these.
Vision makes a startup company responsive:
For any startup company, vision is one of the most influential aspects to determine its success. The vision statement is raison d'être of a company and It determines where it is heading. It becomes a decision filter for every big decision to see if it fits.
Also Read: How do you grow your startup? Take some advice from 4 experts in digital marketing
Jack Ma, the founder of Alibaba, gave a presentation about this. He told that each day his co-workers come and ask for implementing an idea. He checks it for vision "Does it make doing business easier". If yes, he implements it otherwise, rejects.
The vision statement is something you and your team should be passionate about. Your website, blogs, and presentations must revolve around the mission statement
Be customer-centric:
Since revenue and the brand image depend on customer's satisfaction, hence the management activities should be customer-focused. The best way for accelerating business is by creating value for customers.
Plan thoroughly: Define clear and measurable goals:
Planning is essential to good management but its importance increases manifold in the early stage of a business. Startups need a clear road map consisting of clear time-bound goals.
Set realistic and quantifiable goals for three years, one year, and quarters that are measurable.
Set goals that are ambitious. Focus on a bigger picture in mind, even if you are starting it small.
Sit down with staff and set attainable goals for them having their participation. Motivate them to set ambitious goals for innovative design, improved customer relationships and enhancing sales.
Keep monitoring the results. Evaluate the achievements and strategize things again in case of falling short.
Use the OKR (Objectives and key result) method. Define objectives and performance evaluation criteria for every business unit and team with clearly conveying how these goals align with the overall strategy.
Take advantage of effective communication:
Communication both, external and internal is vital for moving a startup forward. While internal communication increase employee's trust and engagement level, external communication helps to develop a brand image and customer satisfaction.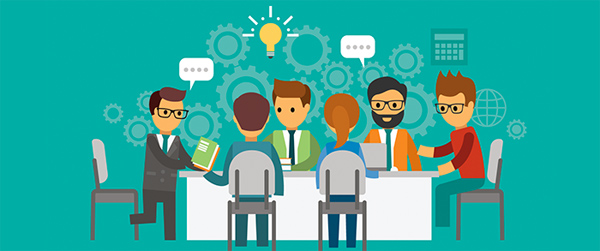 Here are some useful tips for having an effective communication cycle within the organization:
Two-way communication: The communication within, should work both ways. It should flow from top to down and vice versa as well. This brings great input of fresh ideas from the people.
No information overload: Communicate only what is important for staff.
Be open and transparent: If management acts secretive it sparks distrust and suspicion and employees get turned off quickly.
Effective external communication with the general public, target audience and external stakeholders create a positive perception about the startup. Let's have some tips for this also:
Use social media effectively. (Facebook, Twitter Instagram, etc.)
Participate in community events for availing face to face communication.
Focus better visibility and publicity for external communication. This will result in greater customer acquisition.
Remember" Content is the king". Communicate through great audiovisual content that appeals to emotions and is absorbing.
Try to create a big impact with a small budget and limited resources.
Bottom line:
To improve management practices in a startup is crucial to its success. First and foremost, it should build a dedicated team through quality hiring. The people and their commitment is beyond doubt the most important influencer in a startup success.
Also Read: How to build a startup: a quick guide by startup veteran Jon Sugihara
The challenges of a small budget and resource constraints can easily be overcome through effective planning and meaningful communication. The realistic and measurable goal setting and effective performance evaluation contribute immensely in moving the new business forward on the right trajectory. The early management improving efforts if practiced meticulously will surely let your startup have a great take-off.
—
Image Credit: kantver
Editor's note: e27 publishes relevant guest contributions from the community. Share your honest opinions and expert knowledge by submitting your content here.
Join our e27 Telegram group here, or our e27 contributor Facebook page here.