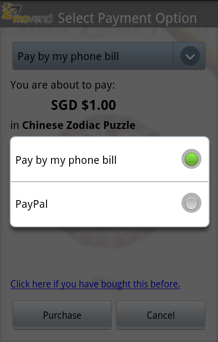 Singapore-based mobile payment startup Stream Media announced today an investment of SGD1 million (US$790,000) from three firms including Stream Global (unrelated), SingTel Innov8 and the National University of Singapore.
The funding round was led by Stream Global, which is one of the incubators under the Singapore government's Technology Incubation Scheme (TIS). Stream Media is the second Singapore-based startup to receive investment from Innov8, SingTel's investment arm.
Stream Media was founded in March 2009 and its flagship product, MoVend, is a mobile payment platform that enables in-app purchases. Released in July 2009 during echelon 2010, MoVend is currently available on Android and will be expanding to BlackBerry, iOS and Windows Phone 7 platforms soon.
In an unpublished interview with e27 two weeks ago, Stream Media's founder, Chua Zi Yong said, "MoVend also provides backend integration with various payment providers such as, SMS operator billing, credit cards, scratch cards, PayPal. And on top of that we provide vertical infrastructures. For example, we provide verticals to help app developers to manage virtual goods."
According to the press release from Stream Media, the company has closed distribution deals with original equipment manufacturers (OEMs) and operators to use MoVend for their app stores.
Chua mentioned that with SGD1 million investment, he plans to scale operations by putting the MoVend system on more platforms and to build his team to get the product out to developers. Currently, Stream Media has a headcount of 12.
With SingTel backing Stream Media, Chua feels it's much easier to talk to operators from other countries to integrate MoVend into the telco-backed apps.SingTel Innov8's managing director, Edgar Hardless, said in the press release, "The mobile space needs more high-quality apps as more users turn to their mobile devices to cater for their entertainment and productivity needs. And the ability to easily monetise apps will certainly help encourage developers to continue to produce innovative mobile apps."