Editor's note: e27 publishes relevant guest contributions from the community. Share your honest opinions and expert knowledge by submitting your content here.
Are you a startup or a small business owner?
Do you understand the importance of branding?
"When you brand yourself properly, the competition becomes irrelevant."
These words are enough to show the importance of branding.
Your brand is one of the most important assets that you possess.
It represents everything that you already are or aspire to become a business in the market.
Your brand is what your existing and potential customers or the entire world perceives of your business or the products and services that you sell in the market.
"Your brand is what other people say about you when you're not in the room." – Jeff Bezos, Founder, and CEO of Amazon (Source)
Building your brand can be tricky, but it's one of the most promising and important elements that represent your business.
A well-established brand helps to build a loyal customer base and crafts a reputable image of your business in the market.
48% of consumers said that the most critical time to gain their loyalty is when they make their first purchase or begin service.
It also helps a company stay focused on their business-critical mission along with getting leads that eventually convert.
Since branding turns out to be such an important aspect of any business, making mistakes while branding can serve as an ingredient for a complete disaster for any business.
Too many startups killed by poor or no branding.
The smallest of mistakes while branding can hamper reputation and build a negative perception of any business, especially start-ups as they already struggle hard to establish themselves in the market.
When a well-established and reputed business makes mistakes in the market, they already have brand esteem established with the customers that serve as its safety.
Also read: Who is afraid of $5 branding? What is the future of the creative industry in the age of automation?
This is on account of the good that has been already done by them- that refers to the sold products, built relationships with the customers and proved worth.
On the other hand, when a startup makes a branding mistake they have no previous history of good deeds. There might be a situation when customers only remember a mistake related to a brand name and the company.
65% of consumers said they've cut ties with a brand over a single poor customer service experience.
I came across a question as I was scrolling through Quora, "What are the most common marketing mistakes that startups make?"
Therefore, startups need to be a little more precautious while building their brand names. Otherwise, mistakes might stunt their growth, even before they make a head start in the market.
If you want to know the common branding mistakes that startups make while setting foot in the market, you are at the right place.
We bring a few common blunders made by startups during branding.
Dive in!
Lack of a brand
It's one of the most common mistakes that have been spotted in the market. Most startups start in the market or try to build a momentum without having a brand.
Or they are in such a hurry that they come up with an instantaneous brand figure and think that it will work well in the market. However, it turns out to be a complete disaster.
Building a brand requires perseverance, a significant amount of market research, competitive research, innovative strategy and rounds of development efforts.
A brand is definitely not something that you can play for a time being. It needs to be one of the biggest priorities of any business as it is what customers remember about your business.
Inability to identify a target market
In order to gain visibility and establish your metal in the market, businesses need to identify a target market and then proceed on with their strategies.
Most startups fail to do this because they have an experimenting attitude in the market. Though experimenting is necessary, depending entirely on the 'wait and see' element to know how customers respond to your products is vague.
Also read: Watch out, these startup social media marketing strategies are bullshit
You cannot cater to everyone's need equally, and an attempt to this will leave you with no customer connections in the market.
Mistakes on social media
Do you use the power of social media?
How do you communicate with your audience?
Social media is one of the most powerful sources for branding these days. If you are creating small business websites as part of branding, you can use social media to drive a large traffic towards it.
See the annual growth of social media: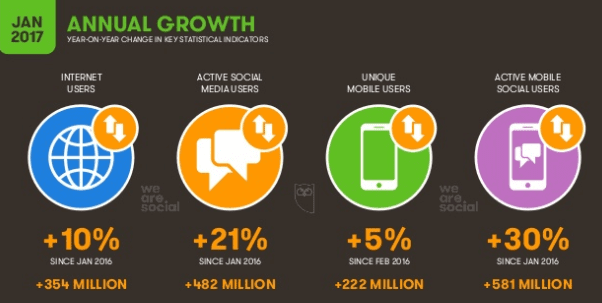 However, social media can act as a dangerous resource in terms of visibility. The greatest blunder that startups can make is to be visible for the wrong reasons on social media.
45% of people surveyed said that they would unfollow a brand on social media if their platform is dominated by 'too much' self-promotion.
These can be picking up some kind of fight with the customer or going off brand by getting into a political or social debate that has nothing to do with the brand.
It's essential to establish some social media guidelines and adhere to them.
Ignoring expert advice
In this era of technological advancements, even startups can give a huge competition to the brand players already established in the market.
Startups can explore affordable marketing avenues in order to build brand awareness. It's important to take the help of experts at this point as well as when you start building the brand.
Consumers need the recommendation from a well-known person. We live in the age of customers and they research a brand on their own and want to hear about it from a trusted person. Your industry influencers can be your brand advocates and promoters.
Final words
Overall, is important for startups consider these points and avoid making blunders while branding in the market. The key is to remain consistent in the market and avoid mimicking other brands.
Are you making these mistakes? or you have any queries to ask. Please share your views in the comment section. I'd love to know your thoughts!
—-
Featured Image: 123RF