Getting our hands in-deep with how AI is actually bringing changes in Medical Coding Automation, it is required the proper understanding of what the basics of what Medical Billing and Coding actually are.
Medical Billing, in the United States, is used primarily for reimbursement purposes since the codes allow for efficient and accurate billing. We all know what an insurance claim is, ad Medical Billing is the process of submission and follow up on these insurance claims by insurance companies for the services provided by the healthcare provider.
The Medical Coding future consists of software solutions that are able to take advantage of Artificial Intelligence, these AI powered Medical Billing Software Solutions would emerge as a new chapter for healthcare innovations. For example, AI can automate a web-based system that's used to analyse a physician's documentation for the treatment and recognise the relevant medical codes from its pre-defined medical coding list. The benefits of medical coding using AI is that it can automate the detection of predefined medical billings codes used by insurance companies.
The use of AI for Medical Billing Solutions, in context to Medical Coding Solutions is on similar lines. Just like software for medical coding, there are medical billing software helping the medical biller translate medical codes and turn them into a financial report all while making sure the amount of errors is minimised as much as possible.
Medical billing or coding didn't really require automation until recent times due to the drastic increase in the growth and complexity of modern technologies, if you compare Medical Billing in 2018 and medical billing in 2019, you would notice a difference in the types of softwares used then and now.
Also Read: LINE, iPrice Group join forces to launch LINE SHOPPING in Indonesia
The medical billing projects taken up by Medical Billing companies in 2019 leans more towards the use of Computer-Assisted Coding to identify and extract data from documents and apply the appropriate codes.
The two most important job titles here are the Medical Coder and the Medical Biller. Medical coding, if we talk about it at a very basic level – is something that a coder takes, a written piece if you may, and translates it as accurately as possible into a coded format such as numeric or alphanumeric code. The piece that's taken for translation can be something such as a prescription for medication or a doctor's diagnosis or something else medical related. A code for each and every event is created, these events can be of injuries, diagnosis or medical procedures.
On the other hand, a medical biller more so acts as a middleman between patients, healthcare providers, and the insurance companies. Their job is on similar lines in context to the Medical Coder. The Medical Biller translates the codes given by the Medical Coder into a financial report, they make sure that the Healthcare Provider has been reimbursed appropriately for the services they've provided.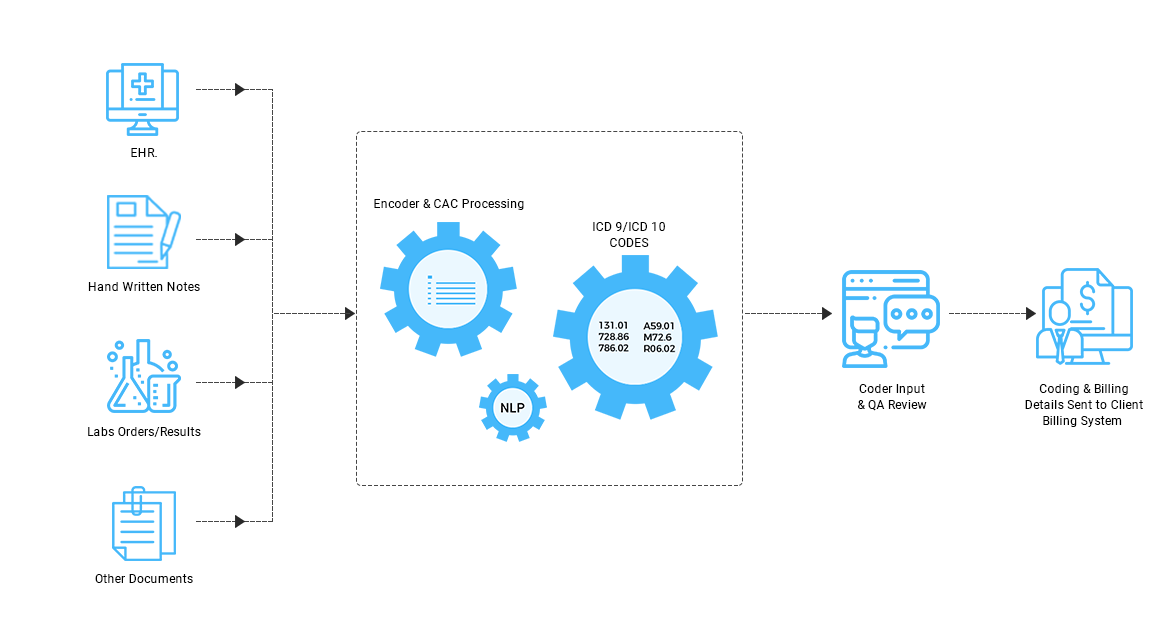 The above image demonstrates the creation and usage of AI in the form of softwares and NLP (Natural Language Processing), here, used in the process to generate a medical report. This is one of the solutions for medical billing known as Healthcare Billing Software Solutions. The complete process of medical billing is known better as 'Healthcare Revenue Cycle'.
There were various challenges faced while building a medical billing system. The challenges found out to be the most problematic are:
Complex procedures for integration
Huge requirement of workforce
Implications of high cost
Inaccurate billing due to inaccurate coding
Also Read: Tech-enabled veggie hawker startup Kedai Sayur secures US$1.3M funding
The proposed solutions for a medical billing system through the integration of technologies such as Artificial Intelligence can be stated as:
Creating a customised billing module
An advanced reporting system
Billing CRM management system
A payment processing system
A system to review claims

An automated system for clinical documentation
AI-powered healthcare revenue cycle is, overall, a future of all medical billing as it moves towards the digitalised practice. The automation and efficiency it offers are a winning combination that many more healttech providers should be able to access.